Missions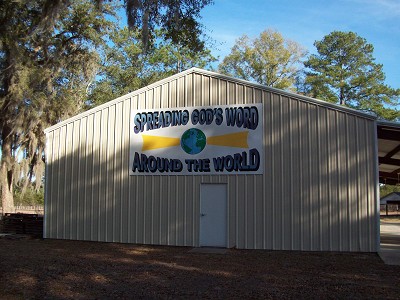 At Trinity Baptist Church, we believe that it is our responsibility and privilege to work toward bringing a close to the Great Commission. In keeping with this belief, our church participates in Faith Promise Missions and supports missionaries in the U.S. and around the world.

Joseph Absalon - Haiti

Joseph & Erlyn Angway - Philippines
Mickel & Elvie Borigas - Philippines
Andrew & Sarah Brown - South Korea
Jeff & Mindy Bush - Vision Baptist Missions
Jon & Amber Canavan - New York City
Robert & Kelli Canfield - Africa
Barbara Davis - Mexico
Henry Donnelly - St. Vincent, West Indies
Lois Dungan - Christian Deaf Ministries

Name Undisclosed - India

Name Undisclosed - Indonesia

Samuel & Belinda Flores - Philippines
Andrew & Amber Garcia - Honduras
Zack & Stephanie Gerwitz - Brazil
Hope Children's Home - Tampa, Florida

David & JoAnna Jenkins - Rock of Ages Prison Ministry
Clifford & Christina Keister - Italy
Terry Kendrick - USA

Glenn & Cher Le Page - Bailiwick of Guernsey

Noel Letana - Philippines
Andrews Martey - Nigeria
Corre & Claudia Meyer - Spain
James & Rosie Miyashita - Japan

Name Unpublished - Nepal

Zakaria & Viola Kungu Ndungu - Kenya

Rodrigo & Emma Olpindo - Philippines
Name Unpublished - Israel
Name Unpublished - India
Name Unpublished - Korea
Miguel & Mariangela Sanabria - Colombia
Nathan & Kelly Saunders - Macedonia World Baptist Missions
Name Unpublished - China
Paul & Tammy Smith - Citizen Impact USA
Name Unpublished - Cambodia
Name Unpublished - China
Garry & Mindy Tingson - Australia
Name Unpublished - Taiwan

Andrew & Nicole Wippler - Finland

Ric & Mai Zacal - Philippines

Each week during our Sunday Evening service and in our bulletin, we spotlight a different missionary and share updates from them so our people can know how best to pray for their needs. We also feature a different people group each week. For more information about people groups and how you can become involved in reaching those who have never heard the gospel, visit Joshua Project.